Help
Advice
To run all games and animations on our website, you have to install the latest plugins that are required by the game:
1)
2) Unity Player plug-in,
3) Shockwave flash.
We are recommending to use browser for better user experience as well!
If you are using phone or any other mobile device, please download to play Flash content. If you are playing HTML games on your iPhone or Android device we still recommend to download Google Chrome and play the game with that browser.

In case you still have problems, please ensure you have Flash enabled!
(Manual for Google Chrome)
1. Click on small ⓘ (i in a circle), the "Site Settings" window will popup!
2. Set Flash as "Always allow on this site" and close the little window.
3. Reload the page, and all the games should work.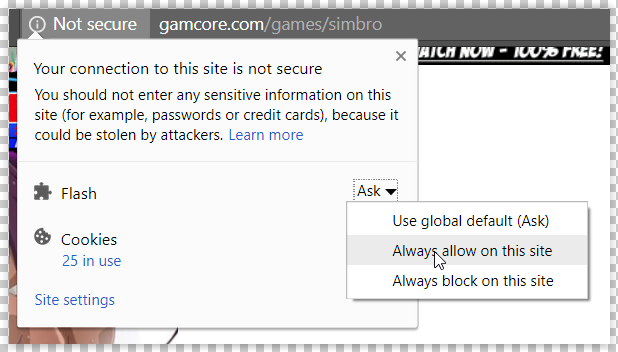 Sometimes game developers make a lot of mistakes and don't make sure that their game is running well on all OS and Devices.

For example, in RPG Maker and similar software there are multiple ways to pack files for web versions of the game.

It turns out that MacOS and iOS try to find other audio/video/image files than Windows. If on Windows you use OGG files for audios, then Apple is looking for M4A files.

Even if developer has used Decryption on his files, even then system search for RPGMVM instead of RPGMVO etc.

This is really confusing for everyone but we're trying to do our best to avoid these issues.

Usually you'll see black screen, maybe hear some sound playing. Don't worry, hit Restart link near the title. If it doesn't help, try different browser.

If you still have problems, please do not hesitate to
contact us
.
Good luck!